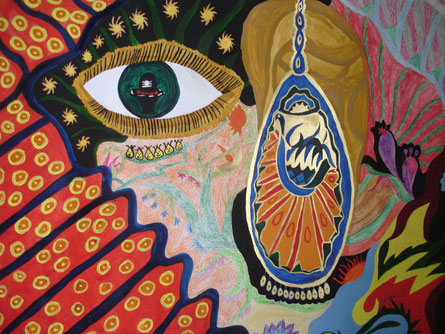 I painted this one in year 2009, as I moved from one city to another with lots happening in my life. Uncertainty clubbed with faith, was unique and a very new experience for me. Dark nights, celebration, laughter, sadness, creativity all came to me like a sine wave, teaching me, various aspects of life.
    Somehow there was a voice deep within which kept guiding me and I followed it. But, expressing all those feelings in this abstract version was the most thrilling ride, like the one you have on roller-coaster! 
    Spirituality comes to me naturally, so I can say this one was my first big work, which I drew intuitively, putting my sphere of thoughts, which inspired me and took my growth to an extremely new level.